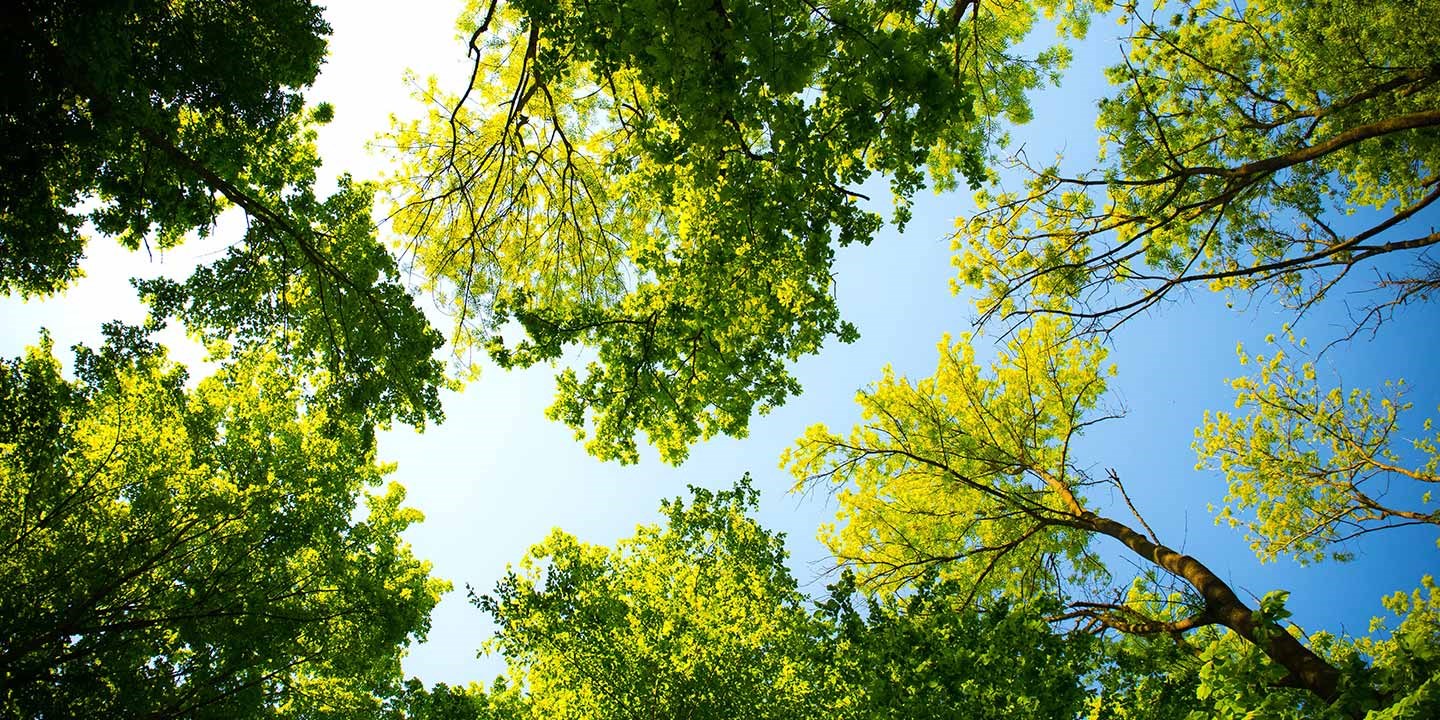 Do you care about the environment? Silly question, right? We all do. We recycle, try not to buy single-use water bottles, and buy local produce when we can.
Cambridge knows that you make a difference each time you choose a product that puts the Earth first. We have heard and answered the call of people who want to do more.
Introducing the Cambridge GreenPath Planner, based on the philosophy that actions speak louder than words. We created this planner to help you live a more eco-conscious life.
"The designs are earthy, but still on trend," says Laura Mason, senior designer and one of the creators of the Cambridge GreenPath Collection. "Sustainability doesn't need to be boring. You can do the right thing but still carry something you love."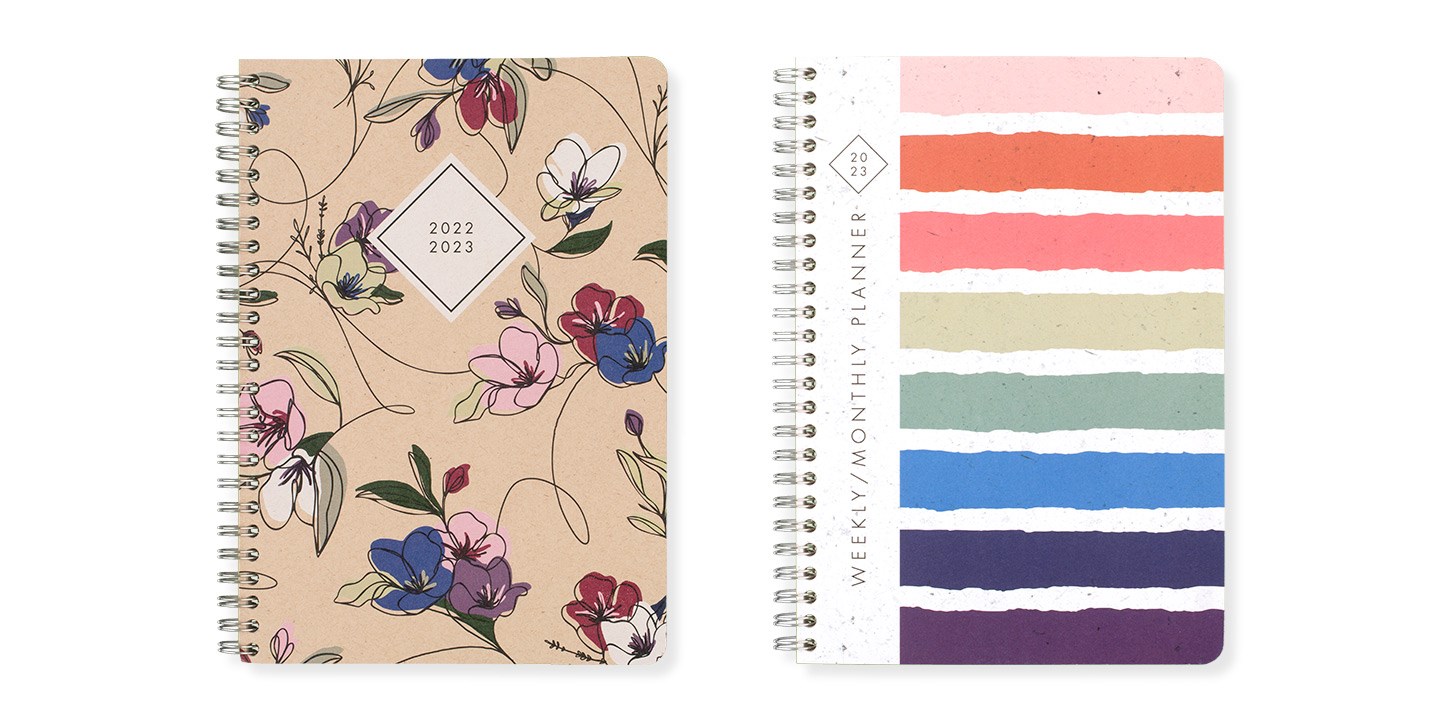 Actions Speak Louder Than Words
Each month highlights an environmental theme, and each week offers a sustainable idea or habit to consider practicing. They are easy items to complete.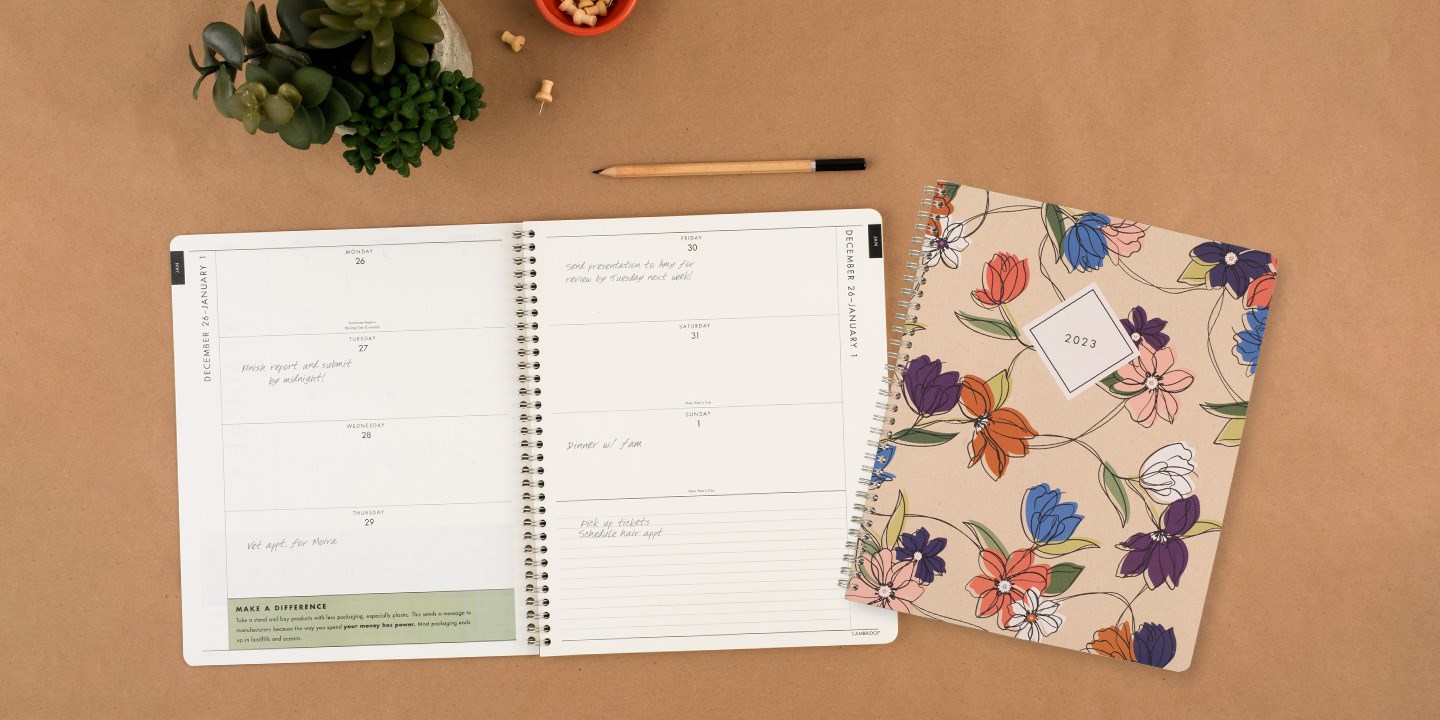 "We wanted to create a planner that helped people walk the talk," says Judy Smith, art director, and a collaborator with Laura on the project. "We know that Cambridge users want to do things to make the world a better place, and The GreenPath Collection helps them do that."
For example, the theme for August is water usage:
Make a Splash! Rethink your water usage.
Water is a limited, precious resource. By becoming better stewards of our water source, we can help ensure survival of the species who share it.
Here are two examples of tips appearing in August, relating to water usage:
Turn off the water when brushing. Most of us are in the habit of leaving the water running while we brush our teeth, letting clean water go down the drain. Wet your toothbrush and turn off the water until you need it again.
Change your shower heads and other taps to reduce water usage. There are some great options that use aeration, so that you can't tell that you are using much less water.
Each month varies. One month you may become more aware of energy use, and the next on your buying habits, etc. By the end of the year, we hope you have cut down your carbon footprint, added less to the landfill, and feel proud of your new habits.
Cambridge GreenPath is Made from Post-Consumer Waste
The Cambridge GreenPath line is made with recycled paper containing post-consumer waste, so it's already been saved from the landfill once. It's printed using vegetable-based inks, and the whole thing is completely compostable and recyclable. It has all the features you love from Cambridge planners like the flexible, durable cover and the strong twin-wire coil that holds it together and allows it to lie perfectly flat while you work.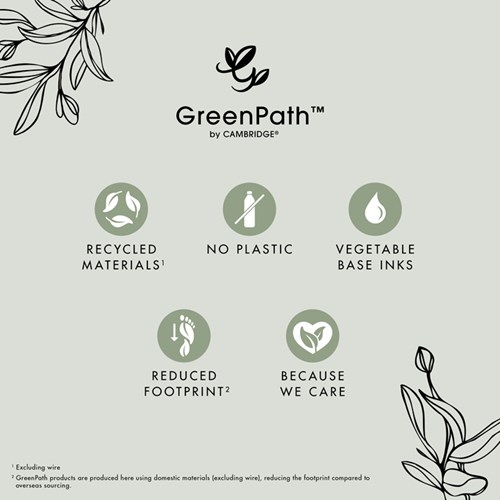 If you want to do something to help the environment, get a GreenPath planner. It's also a great gift idea for a favorite student or friend. Together, we can make a difference for our planet.
Please Share!
Share this with family and friends who may benefit, and please share on social media, tagging us. We should all be on a greener path.