Look Out! Here Comes Tara, our High-Energy Cambridge Designer!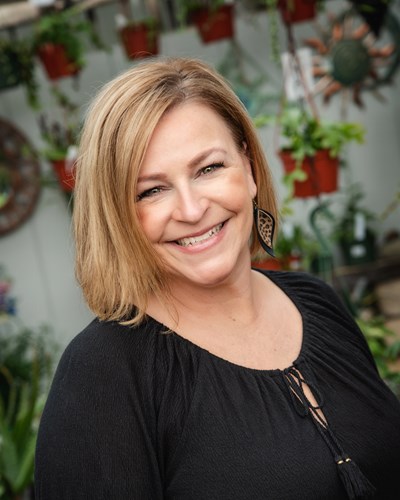 Imagine this. You have a new, beautiful, cream-colored couch. The fabric is sumptuous, and it's tufted with fabric buttons. You love your couch, it elevates your room, and you feel like it elevates your life. Rarely have you had something so elegant in your home.
Imagine that you also have a precocious, creative, three-year-old daughter.
That little girl was Tara Duff, who is now a talented designer at Cambridge. From a young age, she was obsessed with color, drawing, and design.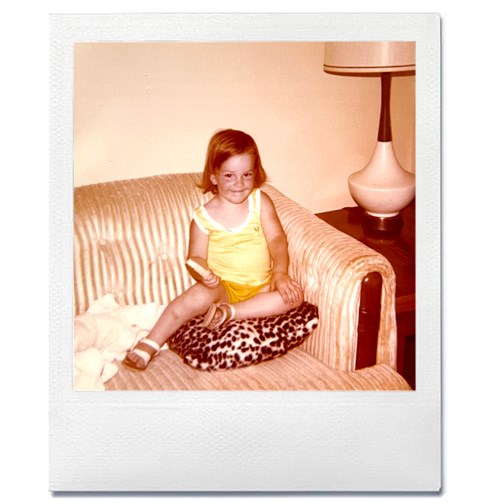 That's why, considering her mother's beautiful, classic, monochrome couch, she decided it needed an upgrade. One day, her mother discovered that every tufted button was colored with marker, giving the furniture a completely new, bespoke aesthetic.
Knowing Tara, she was probably very proud of her work, and in truth, it was probably a great, funky twist on a classic. Giving classics a twist is a natural talent for her. Lucky for us, she has traded in her medium from marker-adorned furniture to creating original designs for Cambridge planners.
Growing up, Tara drew all the time, using markers, pencils, and crayons. She would do a still life of flowers before turning to her geography homework. She didn't hate school, but assumed that her work life would have to be something other than art–until her high school art teacher told her anything was possible.
Stephen Mahoney, then an art teacher at Vandalia Butler High School in Vandalia, Ohio, was popular with kids and teachers alike.
"Everyone loved him, and he opened my eyes to what my world could look like," explains Tara. "He was good at pushing me to the next level. For example, I drew a treasure map once, and he helped me burn the edges so it would look more authentic. He was always inspiring all of us to find out WHAT'S NEXT."
"I thought art was just a hobby, but Mr. Mahoney opened my eyes to the fact that it's not just a starving artist thing," Tara says. "You can actually make a living with your art, and it can be a great career. Now I can't imagine doing anything else–except photography or dolphin training." (PS This statement defines Tara as a person.)
Tara is a bundle of energy with a big personality and an infectious laugh. She is obsessed with the ocean and the beach, taking most of her vacations to beach locations.
This year she was able to work on some designs focused on ocean preservation that drew from all her strengths. During COVID, she actually painted this watercolor during her free time, and then we turned it into a Five Star® notebook, another brand in the ACCO Brands portfolio. Designers often get to work on different brands, bringing fresh perspectives.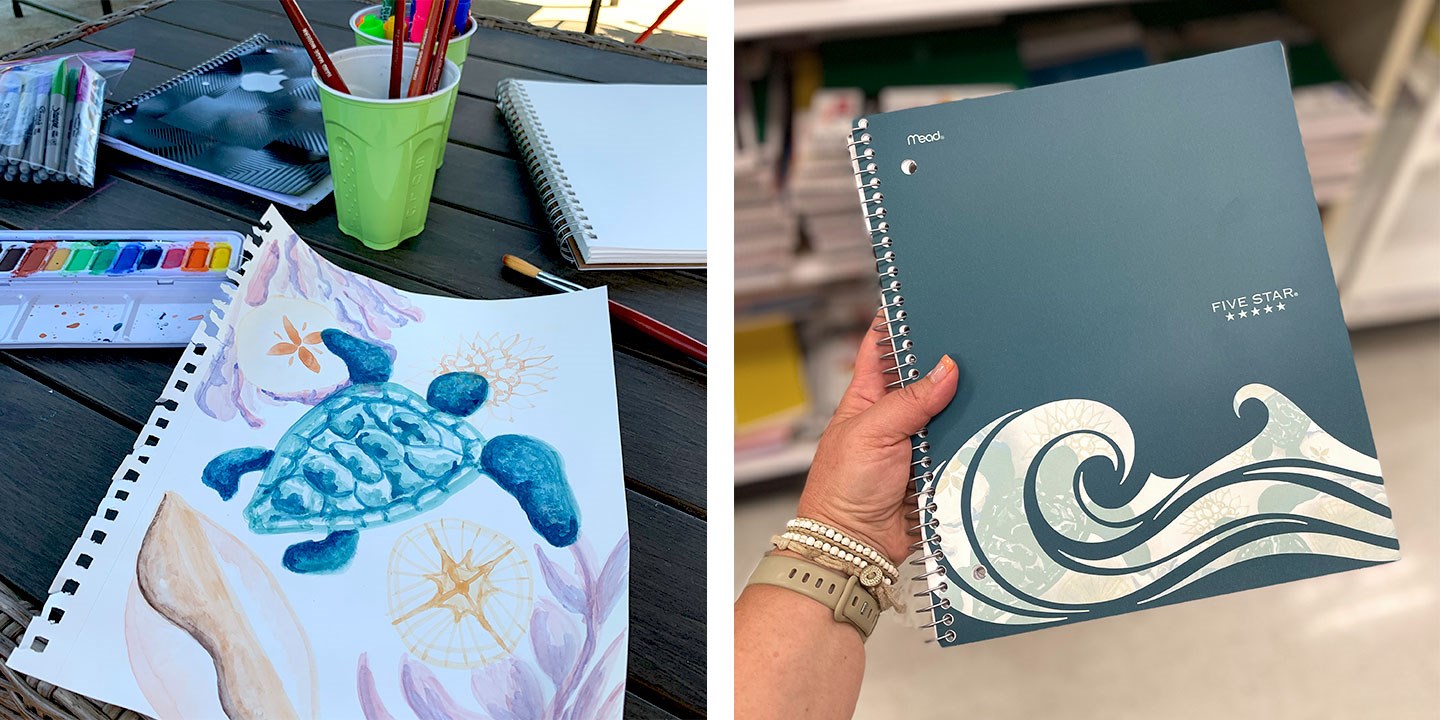 Trends Drive Cambridge Collections
Tara loves photography and design, and she enjoys seeking out trends.
"As a designer, you can't turn off seeing design trends everywhere, explains Tara. "If I'm just scrolling on Instagram, I will say things like: 'Whoa! That's a great houndstooth.' I think my husband and son think I'm a little crazy." Recently, while school shopping with her son, she spied a "funky check" and had to stop to take a few pictures.
By their nature, trends change over time, and sometimes they even shift roles. For example, animal print has always been in and out of fashion.
"We saw animal print come on as a strong trend in 2008," explains Tara. "But now it has become a sort of neutral. I love watching trends evolve."
Oh–And NEVER call leopard print "cheetah" or vice versa around Tara, who is a stickler for identifying things properly.
"It drives me crazy," she says. "Even some very well-known fashion brands say leopard when the print is cheetah, and vice versa." Leopard print has a rosette-like marking, meaning there is some light inside a dark spot, and cheetah print markings are a solid spot.
For the record, this is cheetah (left)... and this is leopard (right).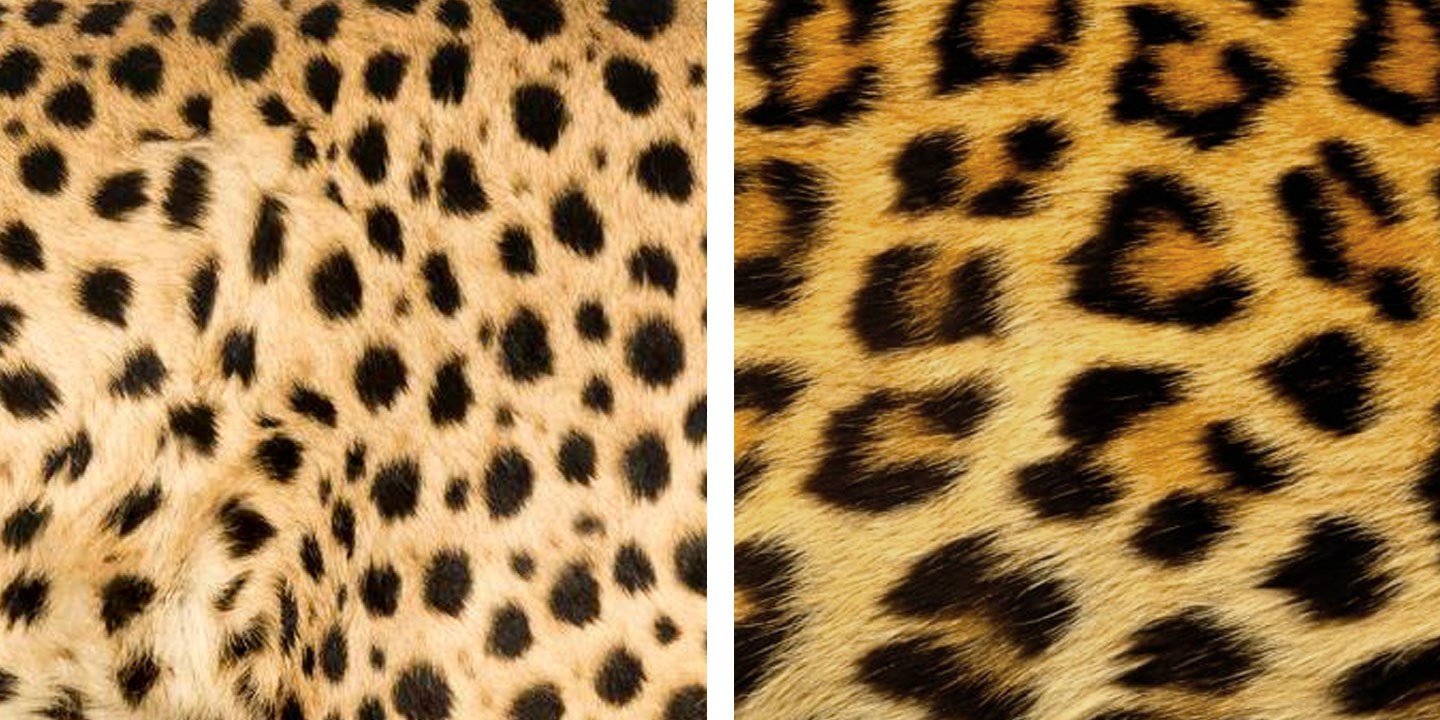 Cambridge designers scour Paris, New York, Milan, LA, high-end pattern houses, and retailers for trends that consumers will love.
"It's so fun, but we have to be very thoughtful too," explains Tara. "If a crazy rainbow leopard trend is super-hot, we sometimes have to boil it down to what is right for our brand and what our consumers really want. After all, they carry this planner all year long, so the design has to last."
Tara's 2023 Cambridge Collection Designs
One design Tara created for Cambridge was a hand-painted stripe. She created it during a Creative Department Art Day, where the department gets together and creates art for fun.
"Everyone loves art days because it's just for fun," Tara explains. "It's just an afternoon where all the designers meet offsite and play around with ripped paper designs, watercolors, alcohol paint, and even potato stamping."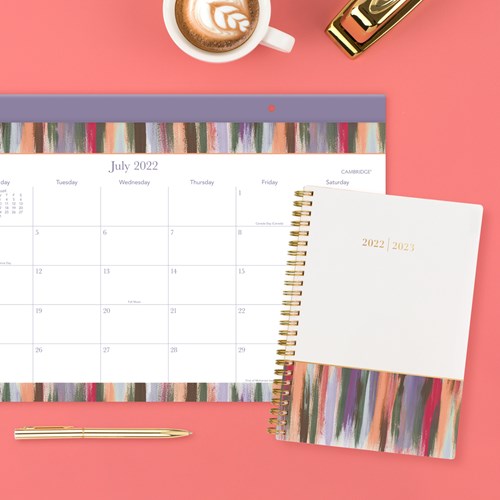 For the Expression Collection, Tara digitally recolored this hand-painted stripe and anchored it to the bottom of an elegant cream cover. She accented the design with a gold bar, year stamp, and gold coil.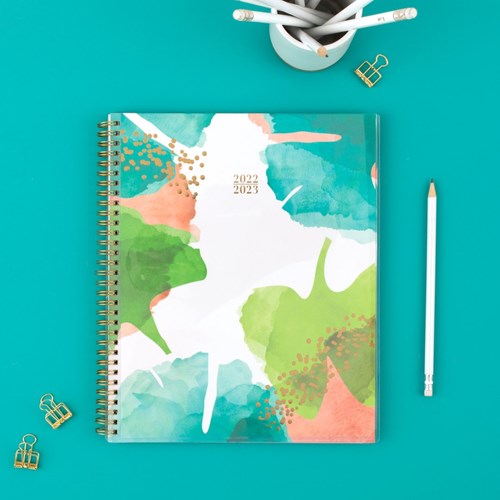 The Oasis Collection is Tara's watercolor approach to ginkgo leaves. She chose a tropical palette and gold coil and accents for this design.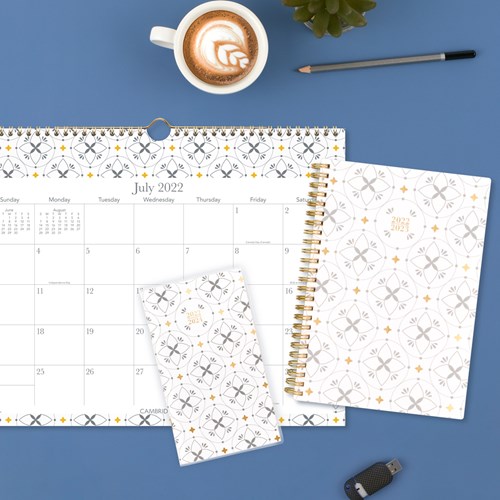 By contrast, the Della Collection features clean medallions of soft gray with goldenrod and gold accents on a fresh, clean white cover.  
Tara has been a designer since 1995. Prior to working at ACCO Brands, she was recruited by a baby products compay before graduation. She designed diaper bags, enjoying the challenge of how each was put together.
She was able to use those same skills while working on our sewn organizers and business bags when she first started at ACCO Brands.
"I can't sew, but I can tell you how to construct a bag," laughs Tara.
Now she handles more than 200 items a year for the Cambridge planning and organizing brand at ACCO Brands, and it makes her happy.
"My job for Cambridge is so great because it goes from nothing but imagination, to finished product in the store, or on our website," says Tara. "I love watching a product go from trend development to design choice, to manufacturing, to actually holding it in your hand."
Tara's favorite time of her career was when she was balancing a lot. She was managing five designers, getting hundreds of products out the door, and figuring out better processes. Tara loves wearing many different hats. She is a designer whose brain fires strong on both sides. Her right side seeks out trends and designs, and her left side sees in a more linear way, like resolving process problems.
"I am an admitted organization and efficiency freak," Tara laughs. "I love to poke holes in processes that don't work. I love to fix problems."   
Judy Smith, her Art Director, couldn't agree more.
"Her organizational skills are meticulous," she says. "I've never worked with anyone as organized as she is. I am lucky to work with several people who are very process driven. Tara gets a huge thrill out of finding the weakest link in a process, or a computer issue, and fixing it."
"When we upgrade a system and need a beta-tester, Tara is always a first choice. She loves the challenge of finding ALL the problems. I'm lucky to have problem-solvers like Tara on my team."
"She is also so easy to work with. If I ask her to change a design, she doesn't question it. She knows I have a good reason. She just says, 'ok,' and gets it done quickly."
Of all the hats she wears, design is her true love.
"I love hand drawing designs, and I really like using Procreate®," Tara says. "I love developing patterns or taking an old design and changing elements or color palettes to make it new and on point again."
"It never gets old seeing a design of mine in the store, on our website, popping up on social media, or the best–seeing someone carrying one of my designs."
Tara lives in Bellbrook, Ohio, with her husband, Tony, and their son, Brayden in a house made beautiful by Tara's taste and talents. Tara and Tony love going to lacrosse games to see Brayden's team play, attending concerts, and spending time with friends. 
From coloring tufted couch buttons, to watching her designs float out into the world, Tara's talent, energy, and infectious laughter have made their mark.