6 Ways to Use a Planner Effectively
You have a planner, but how do you use it? Here are six tips to turn your planner into your life coach!
1. Write it down!
Because SCIENCE.
Studies show you are nearly 50% more likely to crush goals if they are written down.
People love having a paper planner for written goals, although they may use their smartphones to track appointments. Using a planner increases productivity, reduces stress levels, and simplifies achieving your goals.
FIRST: Jot down important dates like vacations, concerts, birthdays, etc. You should do this on your weekly and monthly layouts.
THEN: Write down your goals for the year. Small or large, they should all go in your planner so you stay on top of them. Organize photos, run a 10K, get your next job…they ALL count and need to be written down.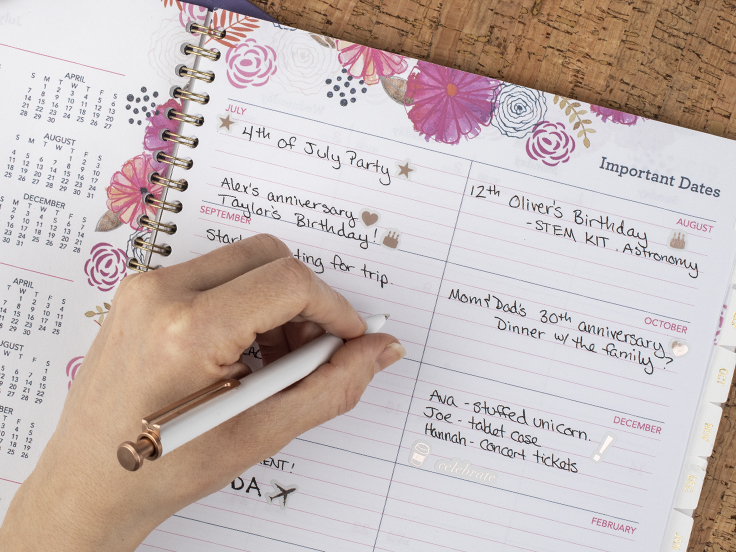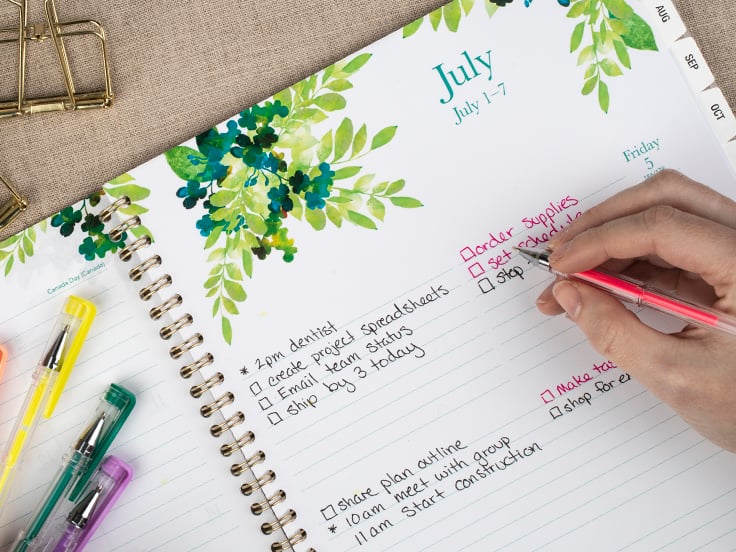 2. Now…plan to plan.
Make yourself a priority by setting monthly, weekly, and daily planning times.
Set a weekly planning time to make sure big goals are broken down into short-term goals and even smaller wins. Then make sure important tasks are on your to-do list. Color coding can also help to keep tasks organized. People who don't bother to write down their professional and personal goals don't achieve them. There is something very powerful about the act of writing. And yeah, studies show that, too!
And like a HIIT workout, add a 5-minute planning time to your morning ritual. Set priorities. Make this habit a part of your morning, and it will change your life.
Plan goal breaks, too. We need time built into our hectic lives where we just rest our minds, bodies, and spirits. You don't want to suffer burnout!
3. BOSS UP. USE IT and take control of your day.
Set manageable goals for the day. Pick 3-5 MUST DOs for your task list. Don't overcommit.
Make room for impromptu changes (probably coming from that pain-in-the-butt email inbox). Be realistic and set yourself up for success on tasks and projects. Also, remember to delegate what you can.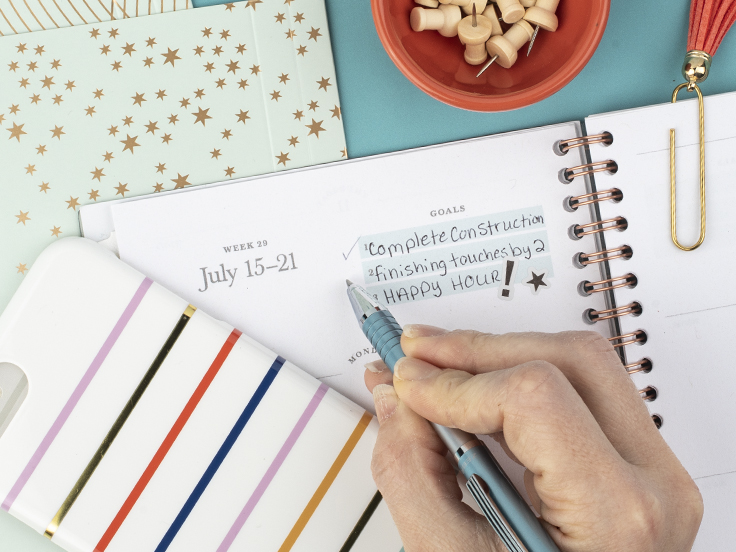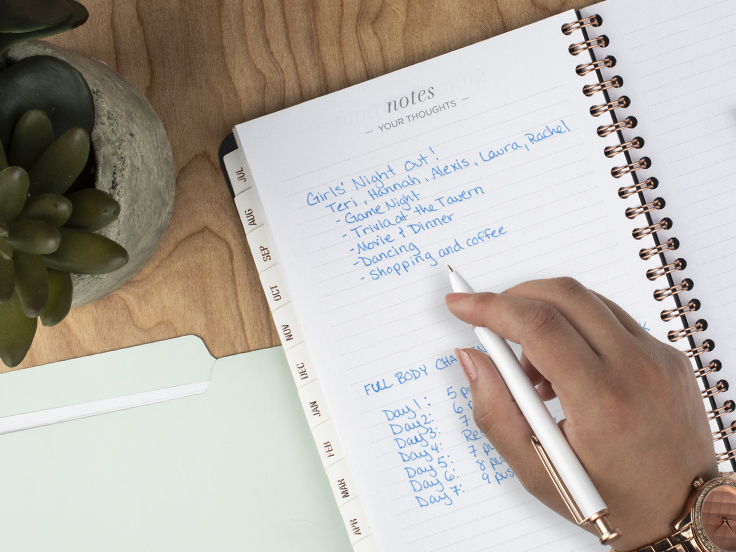 4. Simplify your life. Make your planner your personal assistant.
Take all your notes in one place so you always have details handy.
Ever scroll through the notes on your phone to find dates and details?That is stressful. A planner will simplify your life and handle time management.
Keep information, tasks, and goals for all areas of your life. Keep tasks and goals for your work, home, family, AND personal life ALL in your planner.
5. Free your mind.
Put upcoming events, their little tasks and details ALL in your planner so you can LET THEM GO.
Upcoming events often come with little things that need to be done ahead of time: Buying festival tickets, gifts, sending out invitations, following up on an appointment. By writing them in your planner, you will remember to do these important things, but you don't have to think about it every minute.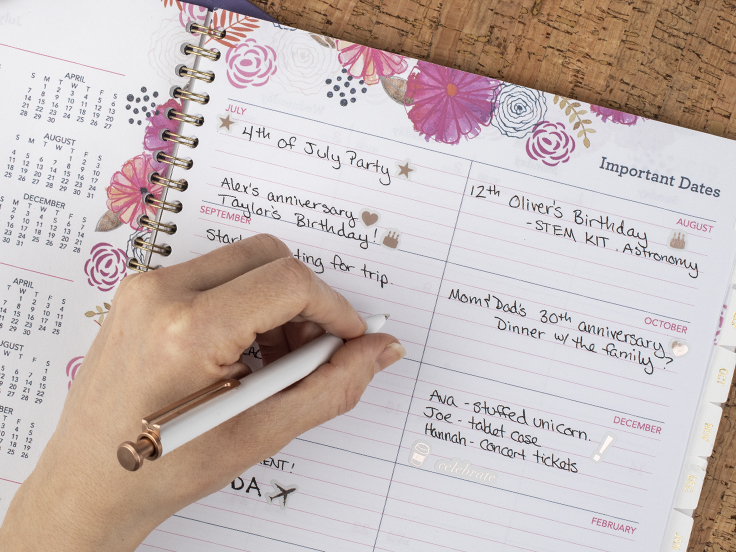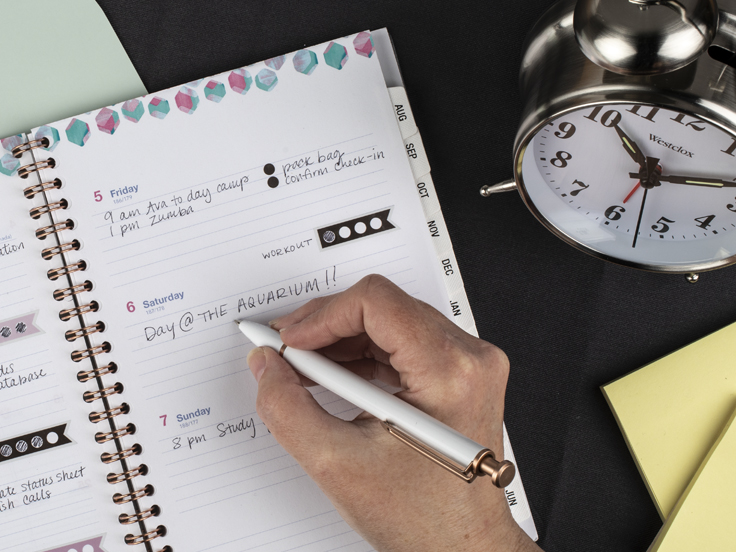 6. YAAAAS! Celebrate wins!
Let's face it. Studies also show that wins make us feel happier.
Big or small, short- or long-term, when you reach your goals or even finish a task, you deserve a reward. Keep it simple; it doesn't need to be huge. Just grab a hairbrush, blast your favorite song, and sing at the top of your lungs. Think of positive experiences that bring you joy. You earned it!
We don't celebrate things enough. Despite the fact that you feel like it's a small victory, celebrate it! Finally decluttering that closet deserves a margarita. Allow yourself to feel proud, because little accomplishments add up to a lot.
Also, you're more likely to crush goals if you train your brain to expect a reward. Again, because SCIENCE.
Which style will help you crush your goals?